The Fraglia Vela Sailing Club Malcesine, Sailing Centre of excellence in Malcesine
E_LAGO
M_LAGO
M_VELA
M_WATERSPORT
T_APRILE
T_MAGGIO
T_GIUGNO
T_LUGLIO
T_AGOSTO
T_SETTEMBRE
Gianni Testa, President of the Malcesine Sailing Club Fraglia Vela Malcesine has been reconfirmed six times.He started sailing boats as a boy when it was prohibitively expensive.
I remember the old people sending me away.> From a young age I wanted to be a member of the Sailing Club and I kept on asking so that my mother would give me 10,000 lire for the membership fees.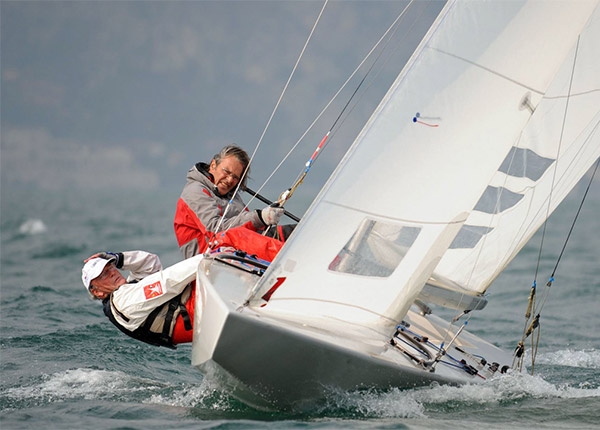 I went sailing with my cousin on whichever boat we could. My first regatta was on a Flying Junior because in those days there weren't any Optimists. We used to sail with Snipe, dinghies and all the boats of that age. Then I started sailing Stars and carried on til 5 years ago
Gianni Testa is someone open to anything new.
Mattia Lonardi says
He's 70 years old and fascinated by Foiling craft but is still just as welcoming to the H-Boat which is an older and slower boat.
Gianni is an instinctive person who doesn't suffocate one: he let's one work and trusts people. He gathers ideas from everyone and lets us all try out our potential. To have worked with him has been to develop professionally and personally.
Gianni, What made a business man get so involved in the social activities of the Malcesine Sailing Club?
It was my passion for sailing - now, I've been president of the Club for more than 20 years and we've come a long way.
Why did you want to move the Sailing Club from its old site along the lake in Malcesine to its new site in Navene?
The Old Sailing Club was small and narrow. We chose Navene to run world class regattas, and we've done it!
It was a dream of a group of people without much money. Malcesine is known around the world thanks to its sailing.
Champions chose Malcesine for training and racing and this is thanks to our new Club. I'm talking about athletes of the calibre of di Russell Coutts, Paul Cayard, Robert Scheidt, Torben Grael, Ben Ainslie, Iain Percy and Fredrick Loof.
Fraglia Vela Malcesine
We started with a business plan drawn up by Marco Carletto and the stuborness of Sandro Lombardi and cleaned up this area putting good rocks down as a base. The Town Councils of those days (headed up by Lombardi and Chincarini) and the Regional government of Giorgetti made contributions of 3 million euros and we could start work. We went to TAR and State meetings; we took a rubbish dump and turned it into a Centre of Excellence that is the envy of everyone.
What make the Malcesine Sailing Club unique?
My dream was to get the children of Malcesine sailing without it costing them a king's ransom. Our Sailing Club is one of the best in Italy and it is turning out champions. We have a training squad which fills me with pride.
Among our young sailors today there are Vittorio Bissaro, Silvia Sicouri, Gianmarco Planchestainer, Gaia Bergonzini, Patrick Zeni, Demi Rio, Maria Coluzzi, Emil Toblini, Kevin Rio, Andrea Spagnolli, Edoardo Tanas, Lisa Sartori, Sofia Chincarini, Pietro Chincarini, Francesco Novelli, Michele Marchei, Matteo Pilati, Francesco Rubagotti, Federica Salvà, Riccardo Vincenzi, Simone Salvà, Federico Benamati, Dimitri Peroni, Michele Cecchin, Marta Tanas, Arianna Forelli, Lorenzo Predari, Emanuele Bonifacio, Claudia Mina Parolari, Valentina Gozzer, Francesco Alverà, Matteo Saglia, Federico Benemati, Giorgia Bertuzzi, Alessia Palanti, Carlotta Rizzardi, Francesco Giacomo Parolari.
Our club members include older sailors too: Flavio Scala, Mauro Testa, Roberto Benamati, Michele Marchesini, Albino Fravezzi and Giuseppe Devoti.
Let's talk about the people at the Sailing Club.
We are all passionate about sailing. We spend our time at the Club - if needs be, we are here for 20 hours a day. We are a group who work together to organize whatever needs doing.
I've heard that you once received a tip for being a good parking attendant? Tell me about that!
It was an Optimist Regatta, our Simone Trophy. I was helping out in the car park and a gentleman arrived from Peschiera who didn't know me.
The car park was full but I found a space for him and he left me a tip!
How has sailing changed in recent years?
Everything is changing, its an on-going evolution. Today's boats are very responsive and sensitive: you have to be an athlete to sail them. I'm fascinated by Foiling craft but I prefer traditional boats because I can't sail Foiling boats.
Is there a regatta that you haven't yet managed to host here in Malcesine or that you would like to organise?
Ah... a round of the Louis Vuitton America's Cup.
By ourselves, we can't do this because each team must have its own base and here there would be two... it would be lovely.
What gives you most satisfaction?
Seeing Malcesine Children sailing!