Art and Culture in Malcesine
HIGHLIGHT
E_CITTA
M_CULTURA_STORIA
M_ARTE_CULTURA_TRADIZIONE
METEO_NO_VENTO
T_GENNAIO
T_FEBBRAIO
T_MARZO
T_APRILE
T_MAGGIO
T_GIUGNO
T_LUGLIO
T_AGOSTO
T_SETTEMBRE
T_OTTOBRE
T_NOVEMBRE
T_DICEMBRE
Exhibitions, expositions and events make the cultural aspect of Malcesine lively and interesting: artists, painters and sculptors exhibit their works inside the rooms and gardens of Palazzo dei Capitani or Castello Scaligero.
The northern part of Lake Garda represents the first contact with the sunny Latin world for those who come from Central Europe.
The earliest evidence of the Romantic Ideal related to Italy and Lake Garda, which is particularly widespread in German and Anglo-Saxon countries from the beginning of the 18th century, is given by J.W.Goethe, one of the greatest German poets and writers.
J.W.Goethe described, in an unparalleled way, emotions that visitors coming to Lake Garda can still experience nowadays, especially if they come in autumn. It was in that period indeed, that Goethe presented Malcesine to History and Literature during his short stay on September 13, 1786.
Among the many well known guests who visited Malcesine we can remember: Kafka, who came here in 1909 and Gustav Klimt, who painted some views of Malcesine and Cassone which were later included in the "Lederer"collection of Vienna and Graz.
Many other artists lived in Malcesine and were inspired by the town for their paintings, such as: Baroni, Belluzzi della Mainolda, Belgian artist Minders da Genk and the unforgettable Ottavio Giacomazzi from Malcesine, well-known and appreciated in many countries, above all in Germany. His works, exhibited in the main cultural centres in Europe, results from his intense artistic path connected with his deep local roots.
Visitors can consult a large amount of books, some of whom in their English or German versions, have access to internet for didactic or research purposes and enjoy some good music in dedicated areas of the library which is situated in some restored rooms of Palazzo dei Capitani.
Goethe in Malcesine
On September 14, 1786, Johann Wolfgang Goethe arrived at Malcesine, his stay contributed to make the town famous all over Europe.
Being a lover of ancient architecture, he was fascinated by the beauty of the castle:
In its courtyard I sat down opposite the old tower built on and into the rocks; I thought I had found a very convenient little spot for drawing: next to a locked door at the top of three or four steps, and in the doorjamb an ornate little stone seat of the kind that can also still be seen in old buildings in our country.
He immediately experienced the familiar feeling of the place.
Even if he was suspicious at first, the poet established a friendly relationship with the inhabitants of Malcesine, as Goethe himself reported remembering what a local said:
Signor Podestà, I am convinced that this man is an honest and educated gentlemen who is travelling to enlarge his knowledge. We should treat him as a friend and set him at liberty so that he may speak well of us to his countrymen and encourage them to visit Malcesine, the beautiful situation of which so well deserves the admiration of the foreigners.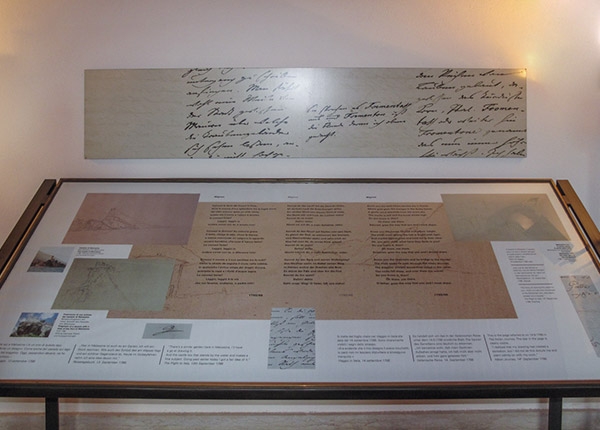 After his journey to Italy Goethe wrote "Theory of Colours" and declared Malcesine part of Central Europe (Mitteleuropa).A Goethe's room was set up inside the ex Austrian gunpowder magazine inside the Castle in order to remember the relationship between the poet and the town.