Windsurf in Malcesine, on Lake Garda
E_LAGO
M_LAGO
M_SURF
M_WATERSPORT
M_NAVIGAZIONE
T_GENNAIO
T_FEBBRAIO
T_MARZO
T_APRILE
T_MAGGIO
T_GIUGNO
T_LUGLIO
T_AGOSTO
T_SETTEMBRE
T_OTTOBRE
T_NOVEMBRE
T_DICEMBRE
Some years ago I had the luck to meet Fabio Calò. The energy and passion he put into windsurfing immediately struck me.
Fabio Calò is the Italian reigning Wave champion, he is managing editor for some magazines as, 4Windsurf and 4Sup, as well as web editor of www.4windsurf.it and www.4sup.it.
Fabio loves Lake Garda and lives for this sport, that's why I decided to tell you about him.
Fabio, how did you start to windsurf?
I started when I was 13 during my summer holidays in Liguria near Arma di Taggia. My mum persuaded me to attend a beginner course. From that day on, I could not live without it.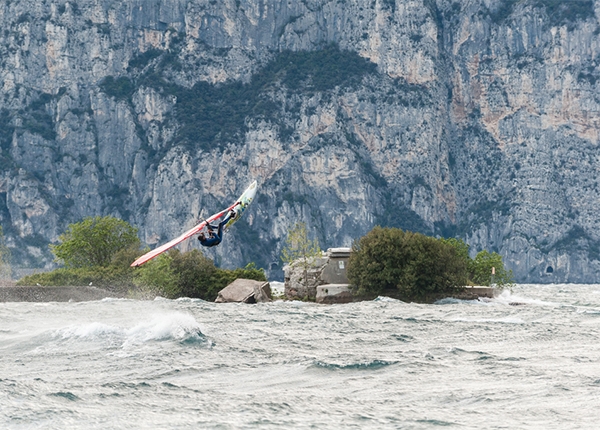 When did you come to Lake Garda for the first time?
The first time I was 16. A friend of mine who was a lot older than me told me about Lake Garda and Pelèr in the morning. He asked me if I wanted to spend a week end at the Lake, we were both from Turin. My uncle came along with me. At the end, my friend could not come and so I found myself alone in Malcesine. I didn't know anything nor anyone.
I came back to Lake Garda many years later, when I started to follow the European Freestyle tour and this was the perfect place for training because of the wind.
I know you have been travelling a lot and that you know many spots. Why did you decide to come and live on Lake Garda?
Yes, I do travel a lot and I have been in many different places, but I like living in Italy and going abroad for my holidays!
Many different events and circumstances in my life brought me to live here on Lake Garda. First of all my passion for windsurfing, and here, of course you can have the chance to try whatever you like in that respect; than I met a girl, who is my wife now.
I have been the managing editor of 4Windsurf since 2006 and there could not be another place on earth better than this for my job, as I can usually find events, competitions and top riders just round the corner!
Fabio, how would you present Malcesine and Lake Garda to those who have never come to windsurf here?
Malcesine is without any doubt one of the most renowned places among wind lovers.
If you are wondering why, the reason is quite easy and it can be summed up in just one word: Pelèr!
Pelèr is one of the two thermal wind of Northern Garda, it blows from North to South, from sunrise untill 11:00 a.m. Then, magically, during sunny days, it makes a 180° turn to be replaced by Ora.
Thanks to the thermal exchange between the fresh temperatures coming from the mountains during the night and the mild temperatures of the lake, Pelèr starts blowing from the first morning lights, the perfect moment for true born windsurf enthusiasts.
Pelèr is a very strong wind, especially early in the morning, it is a true attraction for windsurf enthusiasts coming from all over Italy and all over the world. It's thrilling to see how many windsurfs cut through the lake water during the weekend. The other days are not less so, especially during the summer.
Windsurf enthusiasts coming to Malcesine for their holidays can be sure to find the right wind to have fun while windsurfing.
But Pelèr is not only good for experts: at about 10:00 a.m. the wind start to decrease and beginners can take advantage of the light wind in order to learn this amazing sport.
At about 12:00 a.m. it gets even better when, as Ora starts blowing, the lake surface becomes completely flat and a light breeze coming from the south gently strokes the water. This is the right time for courses: in a few hours, with the right equipment, thanks to the instructors and their professionalism everybody can learn how to windsurf.
Last but not least, in Malcesine you can easily find very famous champions surfing next to you, as they frequently come here for training.
Sometimes the likes of Steven Van Broeckhoven, Antoine Albeau, Finian Maynard or even Gollito, some of the most celebrated international champions, of both Freestyle and Slalom, can be found here.
What are your favourite spots?
In the morning I prefer Malcesine because of Pelèr, while in the afternoon I surf at Pier when Ora starts blowing.
In Malcesine with strong wind, tacking on the right: perfect to jump and get out. Sometimes when the wind is really, really strong, I make some jumps that usually can be made only on the sea, with the Back Loop. We have fun like children.
Freestyle was born here, at Pier, with the first King of the Lake competition in 1996. This is the spot on the Lake where Ora blows more intensely: the freestylers paradise.
If you prefer Slalom, the Conca is what you are looking for.
Read this article if you want to discover all the windsurf spots of Northern Lake Garda, it's really well done as it was written by two athletes who are also friends of ours and come to windsurf in Malcesine.
In case of wind you know where to find Fabio.
Thanks a lot Fabio, enjoy your holidays and good wind to everybody!