Introducing Mount Baldo: a mountain kissed by good fortune
E_MONTAGNA
M_OUTDOOR_TERRA
M_TREKKING
M_CAMMINARE
M_MONTAGNA_BALDO
T_GENNAIO
T_FEBBRAIO
T_MARZO
T_APRILE
T_MAGGIO
T_AGOSTO
T_SETTEMBRE
T_OTTOBRE
T_NOVEMBRE
T_DICEMBRE
You have probably already heard about Mount Baldo, or you have had the chance to see pictures of its amazing views and of its many different flowers growing on the top or on the slopes. Perhaps you already know its amazing wildlife. Maybe you have already walked some of its paths, or discovered some of its valleys going up from the Valley of the Adige River, or going down towards Lake Garda.
If we consider all these aspects, we could say that Mount Baldo is definitely worth a visit as well as coming back. But, being aware of how special this mountain is could make your experience even more authentic. Here is a an overview on its origin and its peculiarities.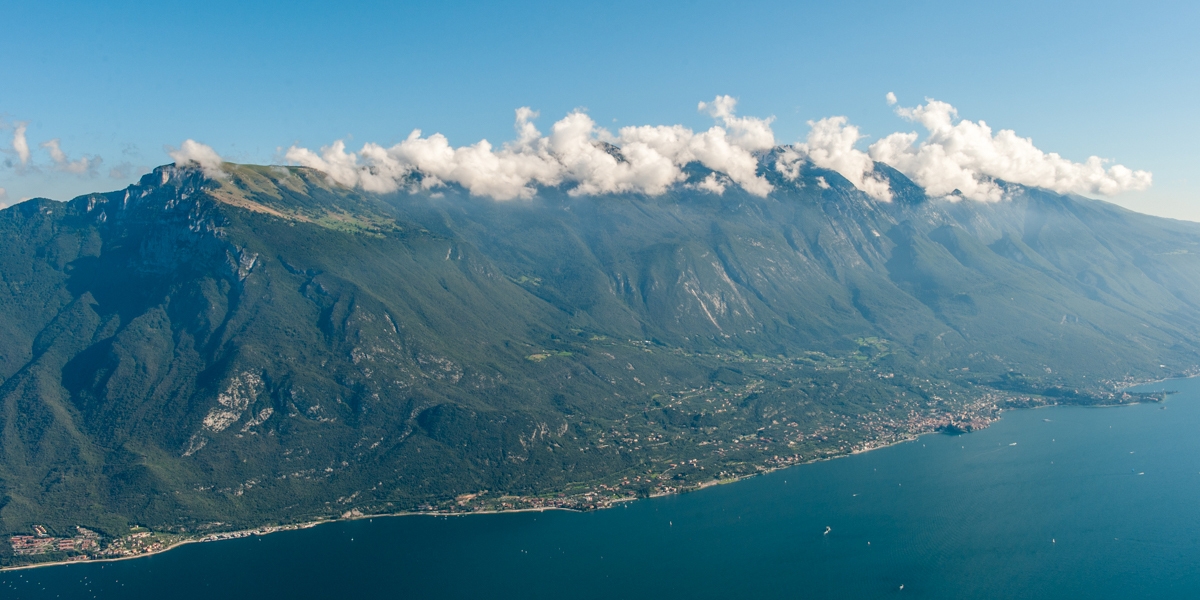 Geology and geography of Mount Baldo
Mount Baldo is the westernmost mountain range of the Venetian Pre-Alps; three quarters of it belonging to the province of Verona and one quarter to Trentino; it stretches for over 30km from South to North, nestled between Val d'Adige (to the east) and Lake Garda (to the west).
As any peak of the Alps, Mount Baldo was formed by alpine orogeny, an uplifting process started more than 100 millions years ago whose main phase took place between 50 and 20 millions years ago.
Mount Baldo could be defined an Alpine mountain "with full rights" as, at the end of its main uplifting phase its peaks raised over 3000 m a.s.l.
However, unlike other Alpine mountains reaching 3000-4000 m of height whose main elements are volcanic and metamorphic rocks, Mount Baldo particularly suffers the effects of high erosion because of its constitutive parts.
Sedimentary rocks settled on the sea bottom affected by erosion mainly provoked by water, are the predominant element of Mount Baldo.
Ice and water together with others erosive factors, day after day, grain after grain, have been slowly dismantling this mountain for milions of years; but this is part of the process of erosion affecting any mountain chain.
Because of its sedimentary origin Mount Baldo is part of the Pre-Alps range.
But, on the contrary, Mount Baldo, as the name says (Baldo means brave), stands out among the giants, proud and aware of all the things that make it unique.The climate of Mount Baldo.
The climate of Mount Baldo
Situated in one of the most beautiful areas in Europe and placed in the middle latitudes of the hemisphere, Mount Baldo enjoys the benefits of a microclimate influenced by Lake Garda which allows the rotation of many different climate types along its slopes, valleys and cirques.
Leaving the coastline and its sub-Mediterranean climate, it is possible to find the typical Alpine biocenosis at 2200 m above sea level.
All Europe, from a climatic point of view, gather around this mountain. As a consequence, many species of animals and plants living all around the continent have found a suitable habitat on Mount Baldo.
During the ice age, when the rest of the Alpine range was covered by ice, Mount Baldo was not affected by this phenomenon, therefore it became the perfect shelter for many animal species which can be considered the very first visitors of this area.

Living Mount Baldo
The many natural species and, above all botanical types with their high naturalistic value, made Mount Baldo particularly attractive for all those willing to explore and be in contact with the natural environment (50% of the Alpine flora is present on Mount Baldo).
The first explorers and herbalists discovered Mount Baldo during the XVI century, laying the groundwork for Nature tourism which is now extremely popular.
Discovering Mount Baldo means having a break to enjoy a nice view when hiking or, remaining speechless while standing in front of its crest landscape, or even being amazed while finding something as rare as a fossil!
Living Mount Baldo means bending down, again and again, to take pictures of the flowers drawing our attention.
In order to know Mount Baldo you need to feel free to walk at different altitudes, in every side of this mountain, ready to enjoy many outdoor activities, such as: trekking, mountain climbing, riding, mountain bike riding and paragliding.
Trekking Telegrafo Monte Baldo
Practising these activities is the right way to understand how mysterious and varied Mount Baldo can be. This territory and its people are open to show what they have to offer and to make visitors feel welcomed.
Mount Baldo is blessed with many natural beauties and we are lucky to share them with you.