Olive growers consortium of Malcesine
E_CITTA
M_FOOD_WINE
M_PRODOTTI_TIPICI
METEO_NO_VENTO
T_GENNAIO
T_FEBBRAIO
T_MARZO
T_APRILE
T_MAGGIO
T_GIUGNO
T_LUGLIO
T_AGOSTO
T_SETTEMBRE
T_OTTOBRE
T_NOVEMBRE
T_DICEMBRE
The association was founded in 1946 and it is now composed of 550 small olive oil producers which, according to the statute, must be olive groves owners from Malcesine or from the neighbouring towns. The consortium of Malcesine's policy imposes the exclusive processing of the members' olives and the commercialization of their own oil.

On average, 400000 kg of olives are processed every year.Half of 70000-80000 kg of the oil produced is intended for personal use while the other half is available at the retail outlets. Consortium's olive oil packs are available only in Malcesine. If olive oil ends, as it has already occured in the past, sales are closed.

How the consortium's oil is produced
Olives are delivered in crates, weighed and poured into a hopper. After twigs and leaves have been removed, olives get washed and grinded.
The olive paste obtained through the crashing is transferred into tanks where it gets blended for about half an hour.Then it is put into the centrifugal decanter, the heart of the system, which separates the solid part (pomace) from the liquid one (oil and water). Pomace comes out from the olive press while the liquid part pass through the centrifuge, separating oil from water. The whole process lasts about one hour.
Being the equipment made of stainless steel, hygiene and oil quality are guaranteed.
The olive oil obtained is treated with special care.
As soon as it comes out from the centrifuge, every single lot is analyzed and stocked in refrigerated stainless steel containers, keeping the temperature under control.
These containers have a special technical peculiarity: thanks to nitrogen insertion (inert gas), air is removed, preventing oxidation which can damage the product.
Oil is stored in a warehouse for no more than one year where it is kept under control and analyzed.

Consortium guided tours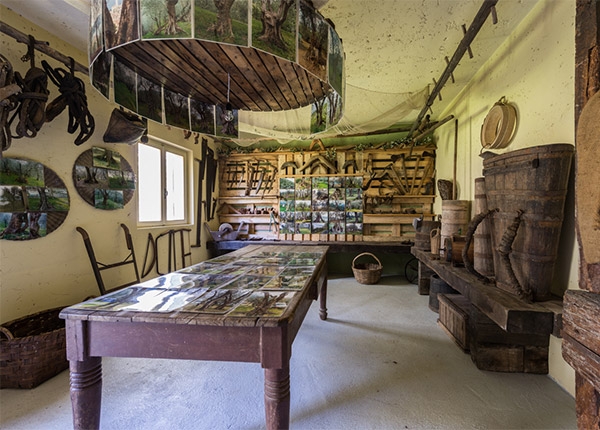 Every friday, by reservation.
During your tour we will tell you the history of our association and you will watch a video showing the life of the olive trees. You will have the chance to observe how the renowned extra vergin olive oil of Malcesine is produced while discovering the main harvesting tools. At the end of your visit, which lasts about an hour and a half and must be booked the previous day, a glass of wine and olive oil tastings on toasted bread (bruschetta) are served.
Contact, information and booking:
By the Consortium in Campo.
By "Vecchio Frantoio" retail outlet Via Navene.
T. +39 045 6570419 | www.oliomalcesine.it | commal@virgilio.it
Retail outlet and oil purchase:
By the Consortium in Campo.
By "Vecchio Frantoio" retail outlet Via Navene.
T. +39 045 6570419 | www.oliomalcesine.it | commal@virgilio.it