Nature and wild herbs of Mount Baldo food dishes
E_CITTA
M_CULTURA_STORIA
M_FOOD_WINE
M_PRODOTTI_TIPICI
T_GENNAIO
T_FEBBRAIO
T_MARZO
T_APRILE
T_MAGGIO
T_GIUGNO
T_LUGLIO
T_AGOSTO
T_SETTEMBRE
T_OTTOBRE
T_NOVEMBRE
T_DICEMBRE
An special receipt: "Pisacan" ravioli, goat's milk ricotta with lemon of Lake Garda, "de Sgusoloo" sauce, Monte Veronese cheese fondue and escargots
Rudi Flaim, native of Valli Giudicarie, met Andrea in his restaurant in Malcesine in 2015.
"I imagine an escargot living in a meadow. The freshly grated lemon lightens the robust, warm, full favoured earthy note.
This dish leads you straight up to the mountains, in a meadow; when you try it, it's like tasting ad feeling the land and the mountains in both your heart and mind."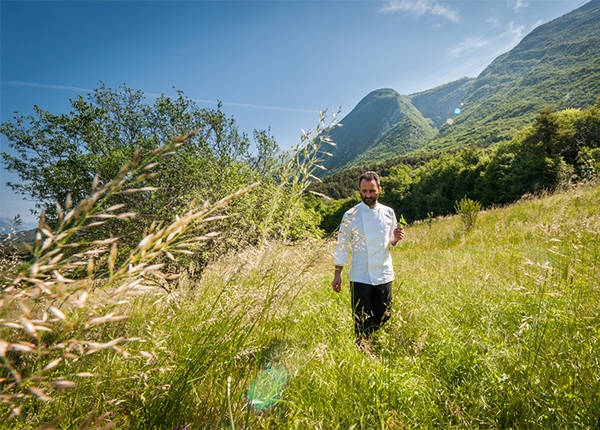 Ingredients
Pasta:
Flour
one egg yolk
Dandelions or "Pisacan"
Filling:
Goat's milk ricotta of Mount Baldo
Freshly grated lemon
table salt
Monte Veronese sauce:
Monte Veronese, cream, milk, salt
Silene or "de Sgusoloo" sauce:
Silene herb, shallot, vegetable broth, potatoes, salt

Escargot

Preparation
Clean the escargots with care, removing the shells from the snails, cook them lightly in boiling water, put them in a pan and cook with shallot, garlic, bay leaves and butter for 30 minutes. Prepare ravioli and cook them in salted water.
Sauté ravioli with cooking water and Olive oil of Malcesine.
Take a dish. Pour Monte Veronese fondue in the middle and lay down ravioli in the border round the dish, put the escargots in the middle with roasted polenta and garnish with silene sauce. Serving the dish with a violet placed among the escargots can give a touch of colour to the course.
Philosophy of the restaurant
Andrea Zani - Owner Restaurant Re Lear:
"I was born in Malcesine, and as any other native of this area, I've been living a life of excellence without been completely aware of it.
Only living outside this context made me realize the potential of this place.
I've wondered for a long time where else I could find such a lifestyle... Well, I don't know, but certainly you can find an excellent lifestyle here! Undisputed naturalistic beauty, pleasant weather and a soft rhythm of life allow us to enjoy our town and its pure environment."
"Different weather types, the lake, the mountains and the hills make this place the second botanical garden in Europe, in terms of variety"
"Only 40 minutes divide the coastline placed at 89 m a.s.l to the top of Mount Baldo (1800 m a.s.l), a condition that encourage people to make full use of raw materials offered by nature.
Cooking local products offered by the territory, following my grandparents example was a spontaneous choice as well as a way to let our guests feel the uniqueness of this environment.
When working with my colleagues Rudi, Riccardo, Federico, Luca, Lara and Odi, which are as conscientious about such issues as I am, we always try to comunicate these values to our guests, creating an emotion.
I live in San Maggiore and I usually buy my food in my private, personal local supermarket: the field.
Every season the field offers different wild herbs and flowers that I have always known. They contribute to make Rudi's recipes unparalleled."
Andrea - Field San Maggiore Baldo
"Our wild herbs can be found everywhere in large quantity. They can offer many varieties depending on the period, they are really good but you can't buy them in a shop."
"The only way to have these herbs is making time to harvest them and being able to recognize them."
"Wild herbs have nothing to do with the traditional market trends, their quality is guaranteed by the fact that they can be anything but artificial.
Wild herbs are Malcesine's positive answer to three basic issues of our time: biodiversity, sustainability and genuineness".
Rudi Flaim - Chef
"I have had many different work experiences in 25 years time. From the mountains to the seaside, from Switzerland to Spain. They were all really useful. I have worked, side by side, with many well-known chefs and I have my personal idea of how cooking must be considered. My starting point are raw materials, furthermore, I always prefer enhancing rather than covering flavours. The main purpose is presenting them at their best.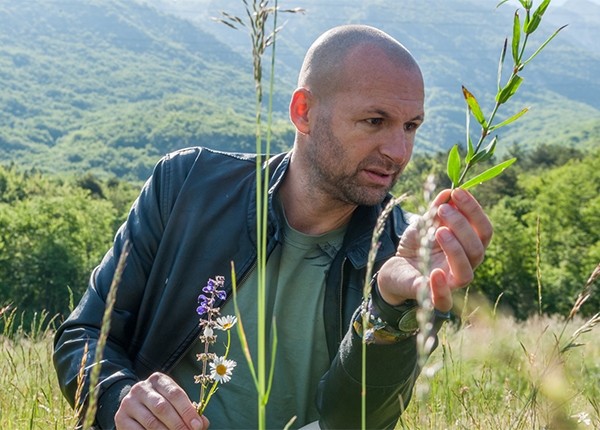 A basic traditional vocational training and a strong knowledge of modern technologies allow me to create scenographic meals with different consistences but without distorting natural flavours.
"I think modern cooking without tradition is like a castle without the base."
"I felt in love with the lake when I was I kid and my parents used to bring me here for a ice cream. In particular, I've always been attracted to Malcesine because of its ancient touch, the castle, the little alleys going up and down but above all, what I really like, is the quiet atmosphere that can lead you back to the old times. I needed to run away and so I said to myself: What about the Lake? And then I met Andrea Zani.
I immediately realized that this territory had a huge potential: an unlimited set of local products, coming from both Lake Garda and Mount Baldo, gave me the chance to create a complete menu."
Herbs Mount Baldo
Olive oil, freshwater fish, mountain pasture cheese, cold cuts, honey but, above all, a huge amount of wild aromatic herbs that can really make the difference in a meal.
"I recently used musk, lichen, thyme, wild mint, hissop, hop, dandelions and selene herb: it's amazing!
I new stage in my career has begun, with these new ingredients enabling me to give life to original dishes, exclusively made with local raw materials. Thanks to a group of people believing in this philosophy, helping me to find fresh products I can express my curiosity and creativity here in Malcesine."