Every picture tells a story
E_CITTA
M_CULTURA_STORIA
T_GENNAIO
T_FEBBRAIO
T_MARZO
T_APRILE
T_MAGGIO
T_GIUGNO
T_LUGLIO
T_AGOSTO
T_SETTEMBRE
T_OTTOBRE
T_NOVEMBRE
T_DICEMBRE
For many years now, as you wander through Malcesine, you will come across old photos of the town. They are the work of Tommasso, who almost by chance began the task of sorting out his grandfather Franco's photo archive.
Hi Tommasso, who are you, what do you do in life and why did you decide to take over the archive?
Hi, I am Tommasso Toninelli, a hotel engineer, I work in Malcesine and in my spare time I keep myself busy with downhill mountain biking and rock climbing. The decision to manage the archive comes from having been born and grown up amid all the pictures that we are slowly unearthing. I say "we" because I work with Angela, my colleague and the person who helped me make this choice and who taught me everything. The work was started around ten years ago by our fathers, who were both photographers, and was passed on to us.
Tell us about your grandfather.
He was a quiet and very meticulous person, sometimes to a fault, but he was also very quick-witted. He loved his work and was always on hand with helpful advice or tips for anyone who needed it.
What did he like to photograph?
Anything that captured his interest: a cloud, an old door, people's faces, landscapes, a reflection in a puddle; anything was a potential "target" for his lens.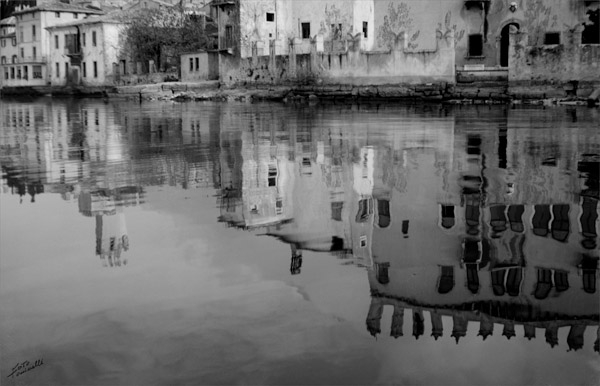 Tell us about his career.
Over the course of his long career, he took part in numerous national and international competitions, from 1954 to the early 90s, in Trieste, Turin, Rimini, Florence, Johannesburg, Vienna, Hong Kong and New Orleans, earning him many prizes including the title of Knight of the Order of Merit of the Italian Republic, for his photographic work, in 1982.
Do you have a particular memory of him?
The smell of acid emanating from his dark room and the red light that illuminated the room when he was developing his pictures.
Another indelible memory is his faithful Rolleiflex dangling from his shoulder, almost like an extension of his arm.
He came to Malcesine from south of Verona. Why?
He was born in San Giovanni Lupatoto in 1924 and came to Malcesine in 1942. The beauty of the place immediately captivated him to such an extent that he moved here and opened his "Fotocentrale" shop, first in Piazza del Porto and then moving to Corso Garibaldi.
In Malcesine, he found fertile ground for his creativity and he began to photograph the town extensively.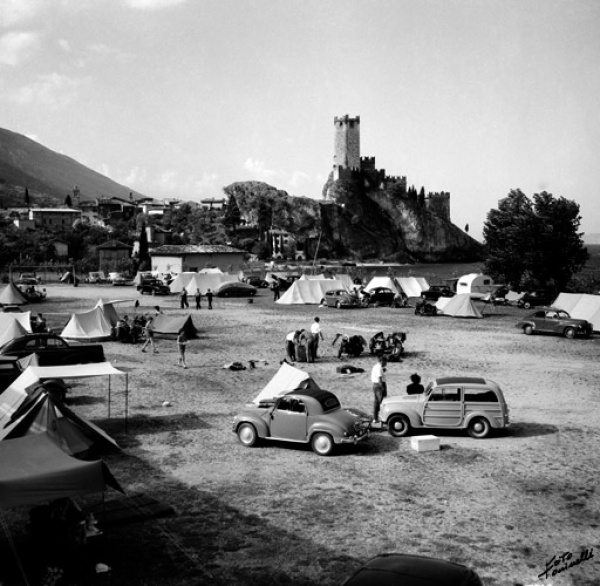 How do you manage and catalogue the archive? Is it complicated?
The archive is not complicated to manage but it takes a bit of care, patience and of course the right equipment to convert the negatives to digital format.
How big is the archive? How far have you got?
Al momento sono state stimate circa 15.000 immagini da negativo e catalogate più di 300 stampe originali 30x40. Delle 15.000 circa 4.000 At present, there are an estimated 15,000 negative images and more than 300 original 30 x 40 prints have been catalogued. Of the 15,000, around 4,000 have been sorted and are ready, some are available online at www.fotofoninelli.it where they are also available for purchase.
Do you know when the archive will be completed?
I can't give a timescale for the completion of the archiving process but as we have only done a third of the black and white collection and there are still all the colour photos to go, it's fair to say that there is still plenty of work to do.
How is it going? Are you happy with the archive?
I am very pleased with the work we have done so far. I have to say that I love unearthing all of this material, it is a trip back in time for me and for the people of Malcesine.
More info: web site Franco Tonielli