Fraglia Vela Malcesine, a paradise for sailors from all over the world
E_LAGO
M_DISABILI_MOTORI
M_OUTDOOR_WATER
M_VELA
M_WATERSPORT
P_BARRIERE
T_GENNAIO
T_FEBBRAIO
T_MARZO
T_APRILE
T_MAGGIO
T_GIUGNO
T_LUGLIO
T_AGOSTO
T_SETTEMBRE
T_OTTOBRE
T_NOVEMBRE
T_DICEMBRE
Fraglia Vela Sailing club Malcesine Lake GardaFraglia Vela Malcesine ASD has been working in the field of sport in Malcesine for over 60 years, having strengthen its position at a local, national and international level.
Malcesine and Northern Lake Garda are renowned, all over the world, as one of the best open air natural gym for sailing. The wind is constant for more than 10 hours a day.
Fraglia Vela Malcesine and Marina Navene are located in Navene, a little village surrounded by a wonderful landscape situated a few kilometers to the north of Malcesine. The sailing club facilities are modern and environmentally friendly: the club house, the gym, the conference room and the restaurant, which are made of wood and glass, have a natural grass covering.
The Marina also offers a touristic service for over 240 crafts, many of which are sailing boats, generating an estimated turnout of about 40000 people a year.
Fraglia Vela Malcesine is fully equipped to organize high technical level sailing events and, since 2015 it has been provided with a new floating pier located to the south and able to accomodate up to 70 crafts of large dimension for regattas. The pier is also used for spectacular shows and events.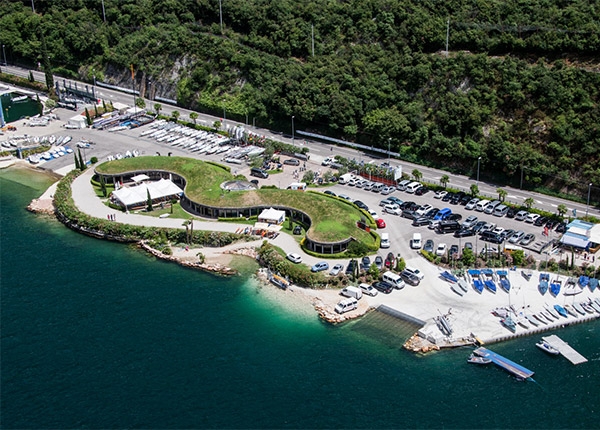 Regattas and events
Every year Fraglia Vela Malcesine organizes about 20 different events.
More than 3.000 sailing racers of different categories and age (from kids to masters) and 2500/3000 other people including trainers, caregivers, parents and relatives gather together at the sailing club.
There are about 6000 people with a total daily turnout of 35000 people a year, who also stay at local hotel facilities.
Training
All year round there are about 2000 people attending Fraglia Vela sailing club for their training sessions.
Malcesine is a must stop-over for the Olympic training of the best sailors in the World: many racers who came here are now Olympic medalists or have won World Championships.Russell Coutts, Paul Cayard, Dean Barker, James Spithill, Robert Scheidt, Torben Grael, Ben Ainslie, Iain Percy, Fredrick Loof are just a few of the many famous athletes who have trained or took part to races here or have been among our guests. Do not waste your time, come here and train with us in Malcesine!
Our services
Sailing School and competitive teams: Fraglia Vela Malcesine stands out for many national and international events but also for the awesome youth activity.

Sailing school fvm: The main project is called "Sailing school project", it is recognized by the Italian Ministery of Education and it is included in the curriculum of the pupils of Malcesine Primary School. This initiative allows sailing to be considered, as many other disciplines, as part the educational path for the young students of both Malcesine and Brenzone.
Eighty athletes who are now members of Fraglia Vela Malcesine in many different classes, such as: Optimist team, Laser team, Windsurf team, 420 team, 470 team, 49er team and Nacra 17 team, have previously attended our school.
Our athletes are taking part to the next Olympic games in Rio in the Nacra 17 Class, while those sailing in the master category always take part to renowned regattas all over the world with the best crafts.

Technician training: Every season, our facility hosts professional refresher courses supported by XIV Zona FIV for technicians. Furthermore, for several years, Fraglia Vela has organized some modules for 1st level Instructor courses supported by the Italian Sailing Federation (FIV). We are proud to say that Zonal trainers Mattia Lonardi and Giorgia Brizio and National trainers Giuseppe Devoti and Ylena Carcasole are part of our staff.We can also count on the valuable participation of Michele Marchesini (Director of FVM) the Italian National Sailing Technical Manager, but also on the Italian National Paralympics Technical Manager Giuseppe Devoti (FVM Athletic Director) and on Mattia Lonardi, Zonal Technical Coordinator for the XIV FIV Zone.

Accessibility: Fraglia Vela Malcesine is easily accessible for people with disabilities who want to try sailing. For this reason, our facilities have been chosen by FIV as the location for the Paralympics National team training.
The Paralympic team which took part to the London Olympic games and will participate to the next tournaments in Rio have been training here.
Our club hosted many associations aiming at drawing disabled people near to sailing and organisations dealing with people with mental or physical impairment who have benefited of the "Dream" craft.
In 2013 Fraglia Vela and Inail worked together to a project called "Spiega la Vela"(Unfurl the sail) whose aim was giving disabled people, who suffered from a workplace accident, the chance to try sailing.

Sponsors and Technical partners: Fraglia Vela works with several sponsors and partners, among which the main one is the brand Falconeri belonging to the Calzedonia corporation. Other important brands stand out as, for instance: Cassa Rurale Alto Garda, Frantoi Redoro and Malcesine Monte Baldo cable car. Among the technical sponsors we can list: Bestwind Shop, Spinloock, Harken and Negri Nautica.The partners are Partner g&d Staschitz photography/print, MFT Italia SRL, La Costa Blu Real Estate, Speck Stube Malcesine, Association of Restaurants and Pizzerias of Malcesine and Malcesine Hoteliers Association.
Fraglia Vela Malcesine has a lot to offer: events, meetings, lunches and dinners, team building, sailing school, tourist recreational activities for the company and company's partners. For this reason, the easy accessibility is worthy of note: there's a large car park, a restaurant and catering is accepted.
Contatti
FRAGLIA DELLA VELA DI MALCESINE ASD
"Simone Lombardi" Sailing Centre
Via Gardesana, 205
I - 37018 Malcesine VR
Tel. e Fax + 39 045 6570439
Tel. +39 045 6583903
Registered office:
viale Roma,38, 37018 Malcesine VR
www.fragliavela.org
race@fragliavela.org